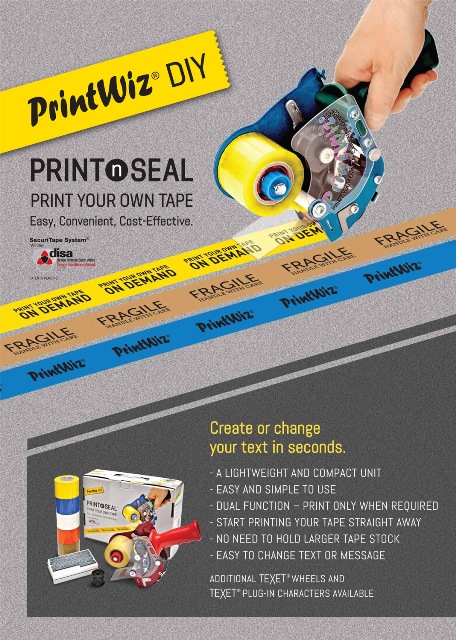 PRINT-WIZ
THE WORLD SMALLEST GIANT!!!
THE WORLD SMALLEST MOST VERSATILE,HAND-HELD,COMMERCIAL AND INDUSTRIAL,TAPE PRINTER / SEALER.
PRINTS YOUR OWN MESSAGE WHEN SEALING A CARTON.
PRINTS ON THE ADHESIVE SIDE OF TAPE THUS CREATES A TAMPER EVIDENT IMPRINT IF LIFTED.
EASY CHANGE OF TEXT.
CONVENIENT INK-CARTRIDGE REPLACEMENT.
TAPE RETAINERS FOR EASY START.
PRINT CONNECT / DISCONNECT MODE AND PRINT ONLY WHEN REQUIRED.
TWO MODELS pw-2 (for 48mm) & pw-3 (for 72mm) tapes.
PW-AUTO, AN ATTACHMENT FOR MOST CASE SEALERS, AVAILABLE.
* EFFICIANT AND COST EFFECTIVE.
* For real SECURITY, print your own tape on application.
* Insert security into your pre-printed branded tape.